The Step Right Up Program!!!
Weeksville Elementary, Brooklyn NY, March 2007
The Step Right Up Program is a free New York based after-school program that unites its students in the common goal of creating a play. We take the children through all steps of bringing a play to the stage: from the creation of the script, to the acting, directing, costume making, set design, music, prop making and more! There's a lot more to theater than the people you see on stage and there's something for everyone to do!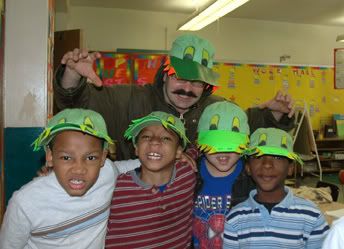 Weeksville Elementary, Brooklyn NY, March 2007
Our first program starts September 25th at PS 15 – 333 East 4th Street between Ave C and Ave D in New York City. A group of 5th graders will meet with us after school twice a week for 8 weeks. Together, we will collaborate in making their play from start to finish. Theater provides a multitude of creative outlets. One child's strength may be in writing, while another may be a natural costume designer and yet working backstage might inspire a third. Through workshops, we will allow the children to explore these many different art forms and discover their strengths and abilities. Each hurdle that must be tackled in the course of production will be met with resourcefulness, a positive outlook and a team approach. We hope to inspire the community to get involved in the project as well as continuing to build the relationship between New York City arts organizations and the public school system.
Arts education is sorely under-funded in New York City. Many schools rely on outside programming to provide their students with this facet of education. Arts in education not only teaches us about ourselves but also about history and culture. Step Right Up's intent is to go into schools particularly lacking in arts programs. Our aim is to fund the program wholly on donation, thereby making it free to the kids involved. The root of theater is essentially storytelling and we want to use creative play and art to encourage each kid that their story is worth telling.
Anjali Suneja and Bonnie Pipkin at Career Day, Weeksville Elementary, Brooklyn NY, April 2007
Significant Collaborators:
Arts for All works hard to provide opportunities to those who have had little chance to take part in the arts as well as youth who have experienced extreme challenges in life. The organization hopes to create a new and exciting venue for these communities to explore, create and express their own feelings and experiences.
Bonnie Pipkin Presents (BPP) is a Brooklyn based theatre company dedicated to producing original, collaborative and cross-disciplinary performance pieces. Since December of 2003, the company has developed new works of theatre and music by emerging Brooklyn artists and produced eleven shows. These shows were performed in galleries, small theatres and alternative spaces in Brooklyn and Manhattan. Admission to events has been at a low cost or by donation, encouraging active participation from the community and an exchange of ideas between audiences and artists. BPP is a dedicated supporter and believer in the creative community.
Teaching Artists :
Mary Meyer is a local clothing designer and also has 10 years experience as a children's teacher. She worked extensively at the Park Day School after-school program, and with the Los Angeles County Museum of Art. Her clothing line is made sweatshop free and donates 10% of it profits to charity. You can find it at high-end boutiques across the country and on her website.
Bonnie Pipkin is a California transplant that has been living in Brooklyn for four years. Within that time, she founded the collaborative and multi-disciplinary theatre company, Bonnie Pipkin Presents and currently works as the Producing Artistic Director. Her efforts with the company have been shifting towards arts education in underserved communities and she now works as much as she can as a Teaching Artist. She holds a BA in English/Creative Writing from San Francisco State University and an MA in Performing Arts Administration from New York University.
Anjali Suneja is an actress, a director, a dancer, a choreographer, a costume designer and anything else that has to do with the theatre. She was trained at the Atlantic Acting School and is the Associate Director of Artistic Production and Education with Bonnie Pipkin Presents. Significant collaborations in her repertoire include Agora II, the interactive dance performance in Brooklyn's Mccarren Park Pool, as well as seven BPP productions. She was the Director of a Chelsea-based contemporary art gallery for five years where she curated and co-curated over 40 exhibitions. She received her BA in Art History & Communication from UC Santa Barbara.